It now becomes urgent for the international community to intervene and say that an intervention wouldn't be accepted.
More killed people are fined overnight as released people who were beaten or tortured while tens of others have been detained. In several regions private fighting groups close to the government (civileans) attacked together with the riotpolice demonstrations in 4 regions.
Roadblocks are being set up between the regions to contain containment and travelling organizers.
Russianite organisations in Ukraine have already accepted the split of the country and call for a new independent state (probably recognized by Russia and its allies). You won't be surprised that the big Russian military port in the Crimea is part of that group.
The strategic importance of Ukraine can't be underestimated
THis is the siuation in Kiev where the red is the part of the city under opposition control
Now look good at this latest map of the lated general confusing and changing situation in the regions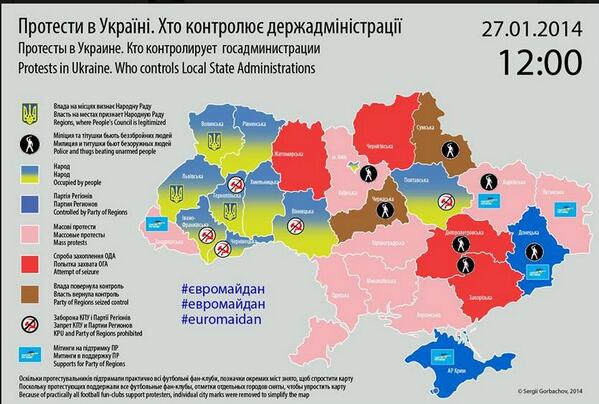 and compare these with the results of the presidential elections
and the number of Russians living in the regions
so to create a viable Russian Ukrainan state they should at least have in hands everything that is blue now and what is orange between them. That way the russian breakaway republic of Transnistria is also linked up and becomes more viable - even if it stole a part of Moldavia. The Russian troops are about 1500 strong but more can be flown in of course.
these are the streets of Kiev that are now firmly in the hands of the opposition
As a military crackdown is looming and all kinds of Russian advisors are rumored to be flown in and thugs in the eastern part are now incorporated into the police as citizen guards it is not yet clear if the choice has really been made to chose a peaceful ending to this conflict.
Ukraine is now firmly on the maps and screens of capitals in the western and Russian world and hard decisions are now on the table at both sides.
NO MORE HUNGARY 1956 or Tiannaman